Whitney Browne on my Creative Team photographed Beth & Eric's wedding with Cherylynn Tsushima as her right-hand photographer and our full Wedding Films team capturing video.
Beth and Eric were up for anything, unafraid of the rain, and so in love. They were so much fun to be around and photograph. Their wedding venue was gorgeous, with beautiful views of the Hudson River. The fog over the river had a super cinematic feeling.


The day was rainy, but Beth had unique umbrellas ready, which kept them dry and added a fun element to the portraits. All the decorations were DIY and made by Beth, so everything about their wedding felt extremely personal. Beth & Eric gave a really heartfelt thank you speech after the toasts at the reception that made everyone feel truly valued.


Working with both the photography/videography team is always a blast. Everyone gets along so well and works together to make magic happen. We keep an eye out for each other so that we're not competing to frame a shot, or more importantly, that we're not competing for time with the couple.
Cherylynn says she still tears up every time she watches Beth & Eric's wedding trailer. Every. Time.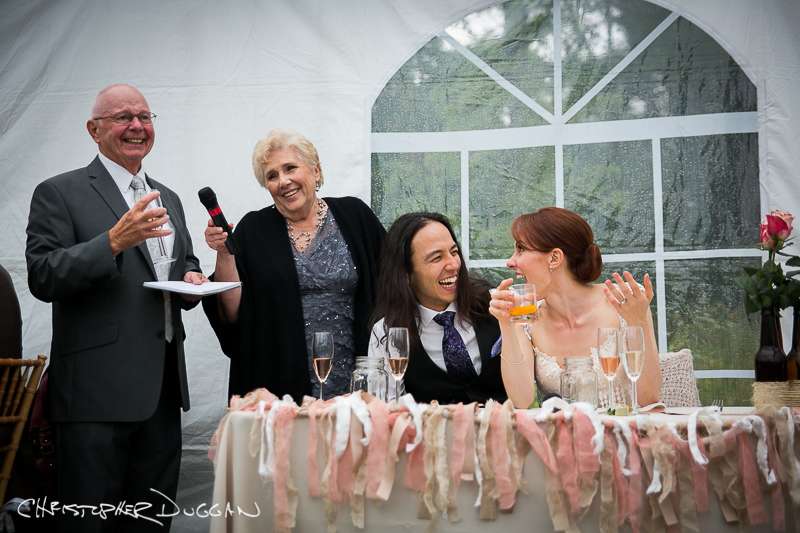 Wedding Collaborators
Wedding Coordinator: Joan Howe, First Impressions Event Planners 
Catering/Cake: Harvest Real Food Catering 
Venue: The River House, Shakespeare on the Hudson
Event Rentals: Rhinebeck Rentals
Hair & Makeup: Vanessa Ungaro, Lauren+Vanessa
Wedding Dress: Claire Pettibone (Kleinfeld)
Groom's Custom Clothing: Bindle & Keep
Hair Accessory: Be Something New, Etsy
Shoes: Bride – Betsey Johnson / Groom – John Varvatos
Officiant: Mauricio Salgado (a college friend of Beth's from Juilliard)
DJ: Ronald Konopka (Beth's brother! He used to DJ in some hip bars in Jersey back in the day.)
Flowers/Decorations: All DIY
---
Previous Post
Nisha & Joe | Bentley Reserve Wedding Photos in San Francisco, CA
Next Post
2015 Couples Choice Award Winner for Photography on WeddingWire