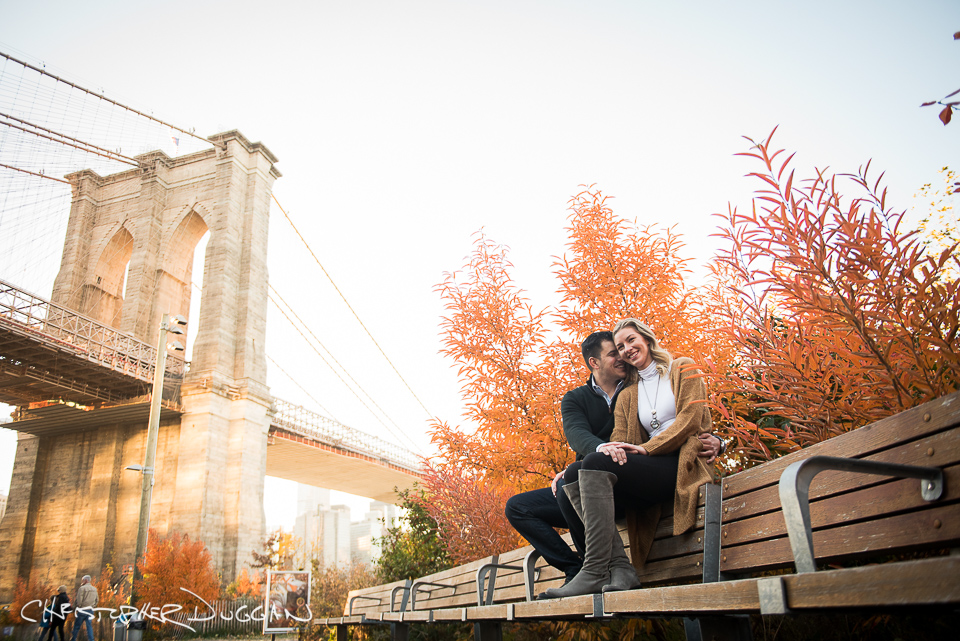 Brooklyn Bridge Park Engagement Photos | Tamara & Marko
Tamara & Marko are getting married next year and wanted to make engagement photos with me this fall. We made photos in DUMBO and Brooklyn Bridge Park, and when we started the session, they were both very nervous. They said to me, "Just tell us what to do. We're in your hands." I thought that was cute, because this happens to me a lot. The couple is nervous, unsure of how they should act in front of the camera. I always reassure everyone that they're doing fine, they look wonderful and to just be themselves. Once we start making portraits, everyone gets more comfortable, and pretty soon, they're not asking what they should do. I let them do their own thing – Tamara & Marko looked great being natural with each other.
I timed our session right with the lighting at the end of the day so the light was glowing around them. I figured that it would get warmer and warmer, but it worked in our favor. The photos turned out beautifully. Tamara & Marko are so in love and enjoy each other a lot and it made for an easy shoot. We just kept shooting until it got dark.
They are getting married at Tappan Hill in 2017, and we're doing their wedding photography and cinematography. I'm so excited for their wedding and to work with them again. Being able to make engagement portraits together is a great way to document this special time in their lives and it's also a great way to get to know each other before the wedding.
I follow Tamara on Instagram, and she has posted a couple of the portraits we made for their engagement shoot on her profile. I love seeing her family and friends commenting on their photos – it gives me such a warm feeling. =)
"We were very excited to do the photo shoot and as we were driving down to the park, we realized we had butterflies and felt just a little nervous because we really didn't know what to expect! But once we met up with you, I felt a sense of ease come over me and once we took the first set of photos, I felt like Marko and I just became ourselves and it was like we were just hanging out in the park for the day.
I remember while we were walking ahead of you, I kind of forgot you were even there because we were just so relaxed. On the way home, we were both so giggly and kept saying how much fun we had taking pictures together! We couldn't believe how quickly you were able to prepare them for us and when we got the finished photos, we were just so blown away. At first I couldn't believe that was actually us (haha) and how amazing the pictures turned out. Each picture immediately brought us back to the moments we took the pictures and we got to relive that day all over again. We are so happy with how the shoot went and just truly impressed with your ability to capture these moments. I can feel the love and emotions just by looking at our pictures. We can't wait to have you capture our special day in a few months!!!"
---
Previous Post
Private Home Wedding Photos in the Berkshires | Stephanie & Anne
Next Post
Sara & Dan | Bowery Hotel Wedding Film