Should You Have A First Look?
Thinking about First Look wedding photos?
When I plan the timeline for portraits with my clients, one of the first things I ask them is if they've considered doing a "First Look."
A First Look is a short portrait session with just the two of you before the ceremony. Here's when you see each other in your wedding attire for the first time. It's that special moment when you realize "This is it. I'm marrying my person… And wow, they look amazing!!!"
"There's something really romantic about those reveal shots, particularly if the location is a great location and there's a true element of surprise."
That is a beautiful moment you will cherish always. And many of my clients have strong feelings about when and where it should take place.
If your entire wedding day takes place in one location, and your family and friends can flow directly from the ceremony to a cocktail hour to the reception, a First Look is a great idea to maximize your time with your loved ones. (No interrupted conversations to go make photos during cocktail hour.)
If there is a gap in your wedding day schedule – maybe the ceremony is at a church or a different location, and the cocktails start later at the reception venue – a First Look might not be needed. (But that doesn't mean you shouldn't think about it as a possibility.)
Jill Gordon, a world-class wedding planner and designer, told me: "If a couple is at all inclined to see one another before the ceremony, I fully encourage it. First and foremost, they will enjoy a more relaxed day overall. You will be able to attend and enjoy their cocktail hour, which would be a shame to miss. And your family and wedding party will be free to enjoy the entire reception, cocktails and all. They will be grateful."
My Personal First Look Story
When Nel & I got married, I wanted the first moment of seeing her to be when she came down the aisle. As I started photographing more and more weddings, I realized that there are a few really big benefits to doing a First Look instead. And in hindsight, I wish we would have done one!
I didn't want to spoil the moment of Nel coming down the aisle, and I know a lot of couples who prefer to have and cherish that moment, but what I've seen so many times over these last 13 years is that clients who choose to do the First Look actually get TWO First Looks!
That walk down the aisle is still so emotion filled – it's like getting that First Look moment twice.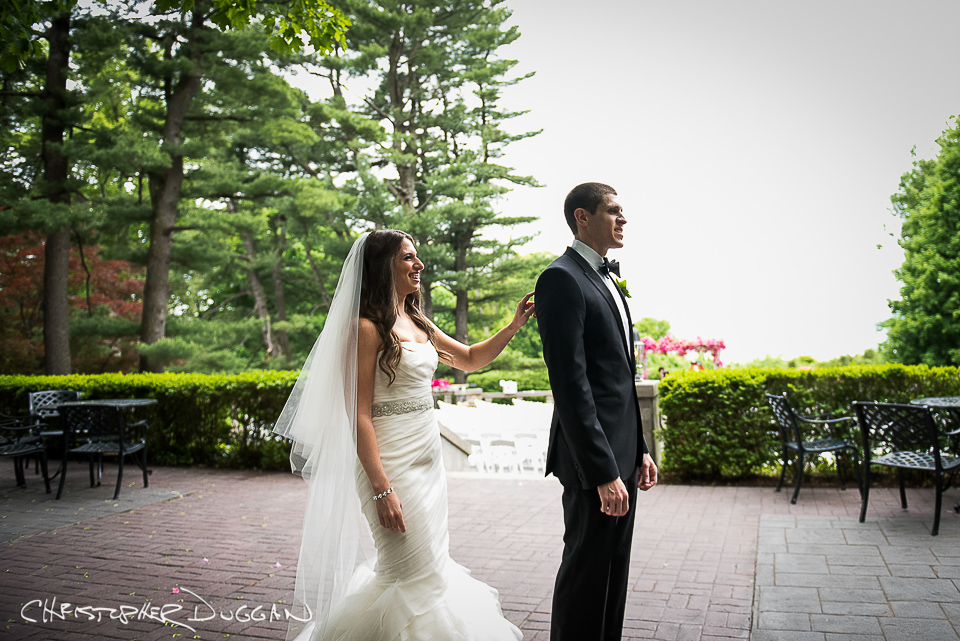 Look Fresh & Be Camera-Ready
A reason why I love doing a First Look portrait session before the ceremony is because it's the moment after the couple has just completed their finishing touches: brides have just come out of hair and makeup and their dresses look untouched, grooms are looking fresh and their suits are looking crisp.
I love that this photo is the very first thing to get the day going.
Creating a More Relaxed Schedule
I usually plan the wedding photo schedule to take as much time as the client wishes to make creative portraits of the two of them together and separately.
If a couple doesn't have a very strict time schedule, I like to make these portraits at a more relaxed pace. This way, we can create more of a variety of photos and have fun together, making the photo shoot more comfortable. Then we'll add the wedding party if you have one and make more pictures. Finally, we'll take photos with your family for Formal Family Portraits.
Once we finish these portraits, you can go inside to freshen up, relax and prepare for the ceremony.
"It's nice to have time together before the ceremony. It takes a lot of pressure off the big moment, and why not spend that highly anxious time with the person who soothes you most."
"You can schedule as much time as you like for photos, without any constrictions on getting to your dinner on time. This means: a more relaxed photo session, the option to shoot at various locations, an option to include more shots, and – best of all – a bit more time for those prized "couple" shots."
Enjoying the Flow of the Day
If the wedding takes place in one location, making all of the portraits ahead of time allows the couple and their families to simply relax and enjoy the rest of the day as it unfolds. You don't have to worry that we captured everything.
Plus, it helps prevent you from having to stop your conversation to leave the party and have your picture taken.
All this said, if you don't want a First Look, you should tell your wedding photographer!
Jill Gordon says, "There are couples who absolutely do not want to see one another. I understand this. My very favorite wedding shots are often of the groom tearing up as he watches his bride walk down the aisle. You just can't beat that. A planned reveal shot never quite achieves that element of emotion and romance. For some people, this is a part of the wedding day that they've envisioned their whole life. There's no argument I could or would make against that!!
In this case, I always recommend that couples plan a longer cocktail hour – an hour and a half is perfect – so that they can have twenty minutes or so to mingle with their guests and enjoy the party. Also, I recommend keeping the photo locations to a minimum to avoid wasting time in transit. And I'm always a big proponent of editing the shot list, because even though photos are the amazing everlasting prize of a wedding, posing for them is tiring and not the prime purpose of the day."
If you're on the fence about a First Look – I hope this helped you in your planning!
All of these thoughts are based on my own experience and feedback I've gotten from clients from 500+ weddings I have photographed. Every couple's priorities are different, and I always abide by their plan and listen to their wishes. No matter who you hire as your wedding photographer, they should honor your plans! (And if you're ready to talk about wedding photography and see if we're a good fit for your big day – let me know!)
We are so grateful to Jill for her generous and expert feedback. We couldn't agree with her more. =)
---
Previous Post
Favorite Moments: Our Clients Choose The Wedding Photos They Love Best
Next Post
Dance Against Cancer 2017 | Dance Photography