Wedding Insights | Your Wedding Album is Your Family Treasure
A wedding album pulls together all of the best images that tell the story of your wedding day.
We live in a digital age, so investing in a wedding album isn't something every couple is thinking about. Many couples are only concerned with getting great photos and hiring the right photographer. And that's a great start!
Call me old school, but I still believe the best way to give a couple their wedding photos is by making a wedding album.
Your wedding album is your family treasure.
The photos and the wedding album are the ONLY "expense" a couple spends on that actually becomes an investment and continues to increase in value over time. Your wedding album will prove to be a treasure cherished by the generations to follow.
My kids love looking at mine and Nel's wedding album. They call it the "Mommy & Daddy book."
They LOVE pointing out Uncle Toby and Grandma Carol. They laugh every time they look at the photos of our family dancing. I love when they flip through our wedding album because they're getting to know some of our family relatives through all of the portraits. Your kids will, too.
Making a wedding album with your photographer actually cuts down on the work you have to do sorting through your photos.
While many wedding photographers provide access and ownership of your digital wedding photo files, you're probably going to be a bit overwhelmed scrolling through the selects we give to you.
My wedding photo team creates a couple thousand pictures at each wedding and delivers the best 700-800, lightly retouched and fabulous. That's a lot of choices!
If you choose to make a wedding album, that album holds your absolute favorite images from your big day, along with some other key detail images that really help to give you the feeling of how it was to be there.
Picture yourself on your 5th anniversary, then your 10th anniversary… you're not going to pull up the 800 photos we send to you digitally and go through them one-by-one!
My photographer was my friend who did my wedding as a gift. He smiled as he handed my over 5,000 photos. He shot is buns off for the whole weekend, made amazing images, and gave them ALL to me unedited. Once I culled it down to the best 1,000, it still took me over 3 years to do our album.
It's so hard to choose your own photos. You love every photo. Each photo is so filled with emotion. Each photo contains dear friends and family. Each photo evokes wonderful memories. You need help choosing the best images for your album.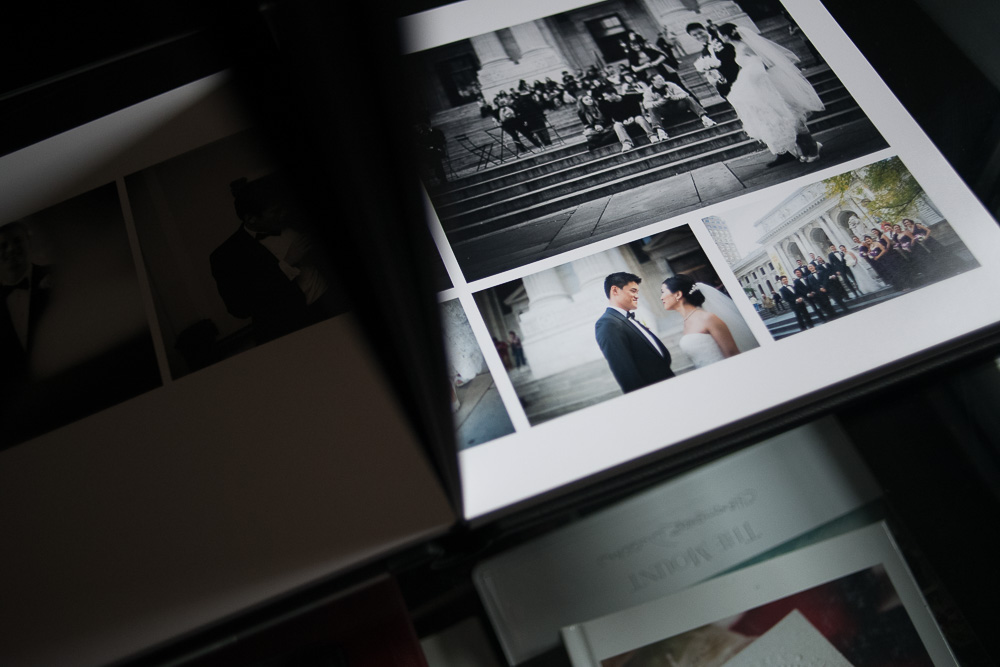 Your wedding album will become a precious family heirloom.
Our albums are made in Italy with fine craftsmanship and Italian leather. All of the materials (paper, leather, glue, stitching) are archival and promise to endure 100 years and more. Imagine your great-great-grandchildren finding your wedding album 100 years from now. A cherished family heirloom.
We used to deliver wedding portraits on CDs, then DVDs, then zip drives, now we deliver via the Cloud…. I just can't imagine my couples' grandkids searching old hard drives or scrolling through past generations of Dropbox to discover their grandparents' wedding photos. Or at least it doesn't feel as romantic as coming across an album on the shelf in your grandparents' living room.
Wedding albums also offer a hard copy of your most precious memories. What happens if your computer gets hacked or wiped out? You won't have to worry about losing your photos – because you'll have your wedding album safely sitting on your coffee table. (But you should also back up your digital files regularly!!)
Giving a wedding album to a client feels so intimate, so personal. You're able to page through the best of the best portraits from one of the most special days in your life. A wedding album really tells the story of your wedding day!
---
Previous Post
Wedding Insights From REAL Couples | Christopher Duggan Photography
Next Post
WeddingWire Couples' Choice Award 2018